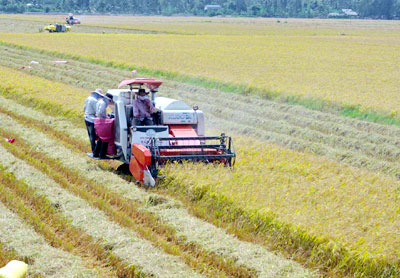 Farmers benefit from co-operation
CAN THO (VNS)— Farmers in two Can Tho communes increased their profit margin by almost 50 per cent in last year's winter-spring crop by pooling land and other resources.
A conference held in the Mekong Delta city on Wednesday also heard that in Vinh Thanh District's Thanh An and Thanh Loi communes, an average profit of VND16.6 million (nearly US$800) per hectare were earned from applying the large-field model.
Under this model, many small farmers pool their land to achieve economies of scale.
Growing interest has helped Can Tho City increase the total area under the model from 1,800ha during last year's crop to 9,100ha now, the conference heard.
In Thoi Lai and Vinh Thanh districts, the area has expanded from 500ha and 700ha to 3,800ha and 3,200ha respectively.
Nguyen Van Phuoc, chairman of the Vinh Thanh People's Committee, said the large-field model has catalysed local development by increasing produce value and boosting farmers' incomes.
Three years after it was first adopted, 200 households in Thanh An Town established the Dong Van Co-operative by pooling 400ha of rice fields.
By exchanging information on cultivation methods and quality of strains, they farmers were able to extract maximum yield from their fields.
After harvesting bumper crops the co-operative signed agreements with large food and fertiliser companies that agreed to supply them with inputs and buy their produce.
Phuoc said three communes in the north of the Cai San area in the province have created a vast farm of over 2,000ha.
Pham Van Huynh, director of the city's Department of Agriculture and Rural Development, said at the seminar that the new model has helped change people's farming habits with regard to sowing schedules, choosing rice varieties, and use of technology.
Farmers attending the seminar called on relevant authorities to further invest in infrastructure projects to build roads and irrigation systems that facilitate intensive cultivation.
Tran Manh Hung, chairman of Thanh Loi Commune, said the Government should issue policies that encourage businesses to buy and consume rice and enable farmers to access cheap loans.
Meanwhile, farmers are having difficulties selling their high-quality rice.
Le Van Thanh, a farmer from Dong Thang Commune in Can Tho City's Co Do District, said that for the last winter-spring crop, he sowed high-quality Jasmine paddy on 2ha which produced over 20 tonnes of rice.
However, only 4.2 tonnes has been purchased so far.
In Can Tho alone, some 200,000 tonnes of high-quality rice have been left unsold and stockpiled since the harvest of the winter-spring crop.
The unsold quantity of high-quality paddy in Kien Giang Province amounted to 600,000 tonnes.
Many farmers in the province have not sold their winter-spring paddy, waiting for better prices. — VNS